Japanese Clay Coins Book - Maboroshi - Japanese Ceramic Coinage - Circa 1945
BK2021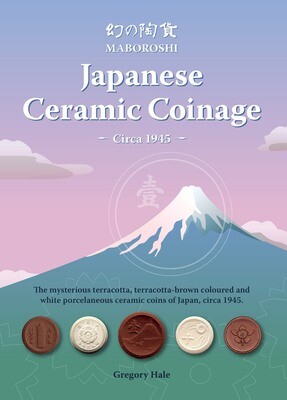 Books
The mysterious Japanese ceramic coins from 1944–45 provide a snapshot of a brief and fascinating part of Japanese numismatic history – the fragile link between war and peace in Japan.
'Maboroshi' is a Japanese term to describe these coins and translates as the phantom. These small ceramic coins are undoubtedly mysterious, and like a ghost in the night, as soon as they appeared, they were gone. Mystery surrounds their existence, use and destruction at war's end.
This Japanese clay coin book tells the story – the trials and tribulations of these coins from their concept to production and destruction.
This work is a culmination of years of research and draws on information pieced together from an unpublished, hand-written manuscript; video recordings of first-hand accounts; information provided by coin dealers, ceramic specialists and experts in Japanese numismatics; records and information provided by Japan Mint, Osaka.
Size: A5
Full colour
Pages: 48 pages
Author: Gregory Hale
Printed in Australia
Published: 2021